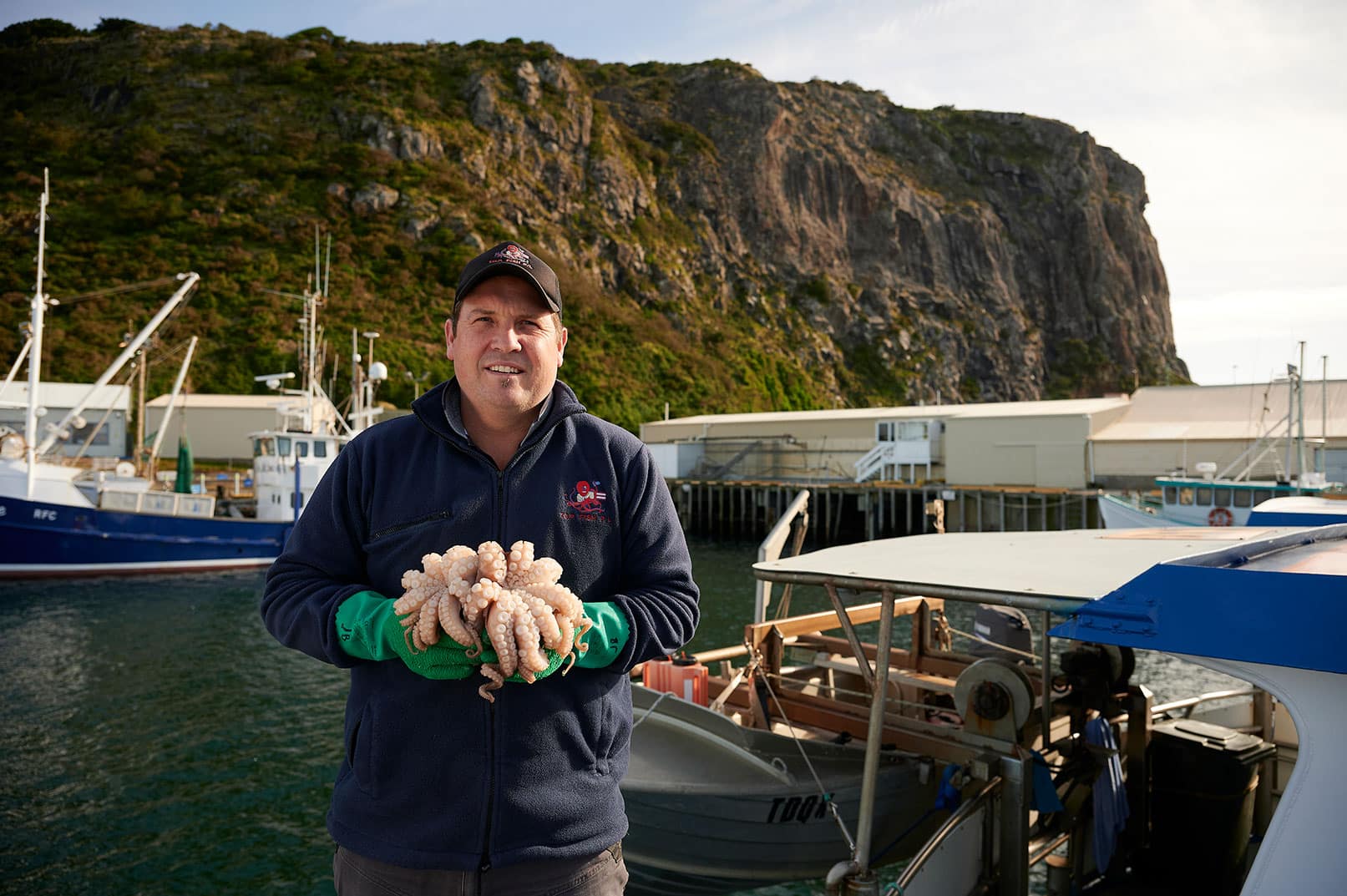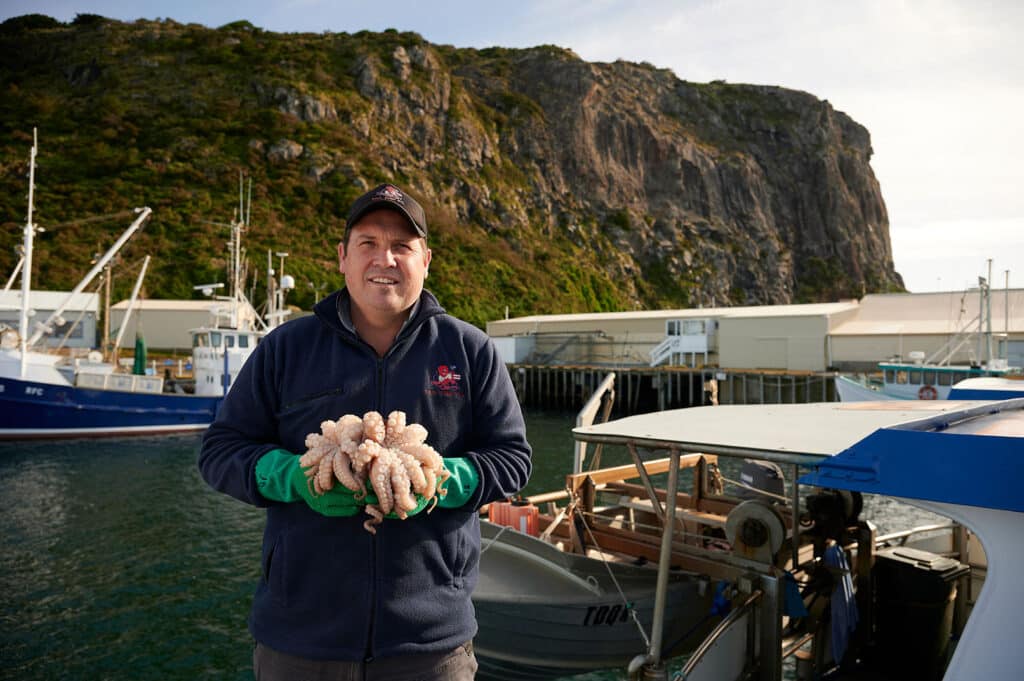 Top catch for T.O.P Fish
The wild waters of Bass Strait separate Tasmania from mainland Australia. Fishers who live and work along this infamous stretch of deep blue are rewarded with some of the finest seafood in the world.
Locals Michael and Jan Hardy first began braving the Roaring Forties for octopus in the 1970s. Almost half a century later, joined by their sons and even a grandson, their specialised octopus fishing techniques continue to place gourmet products on plates around the world.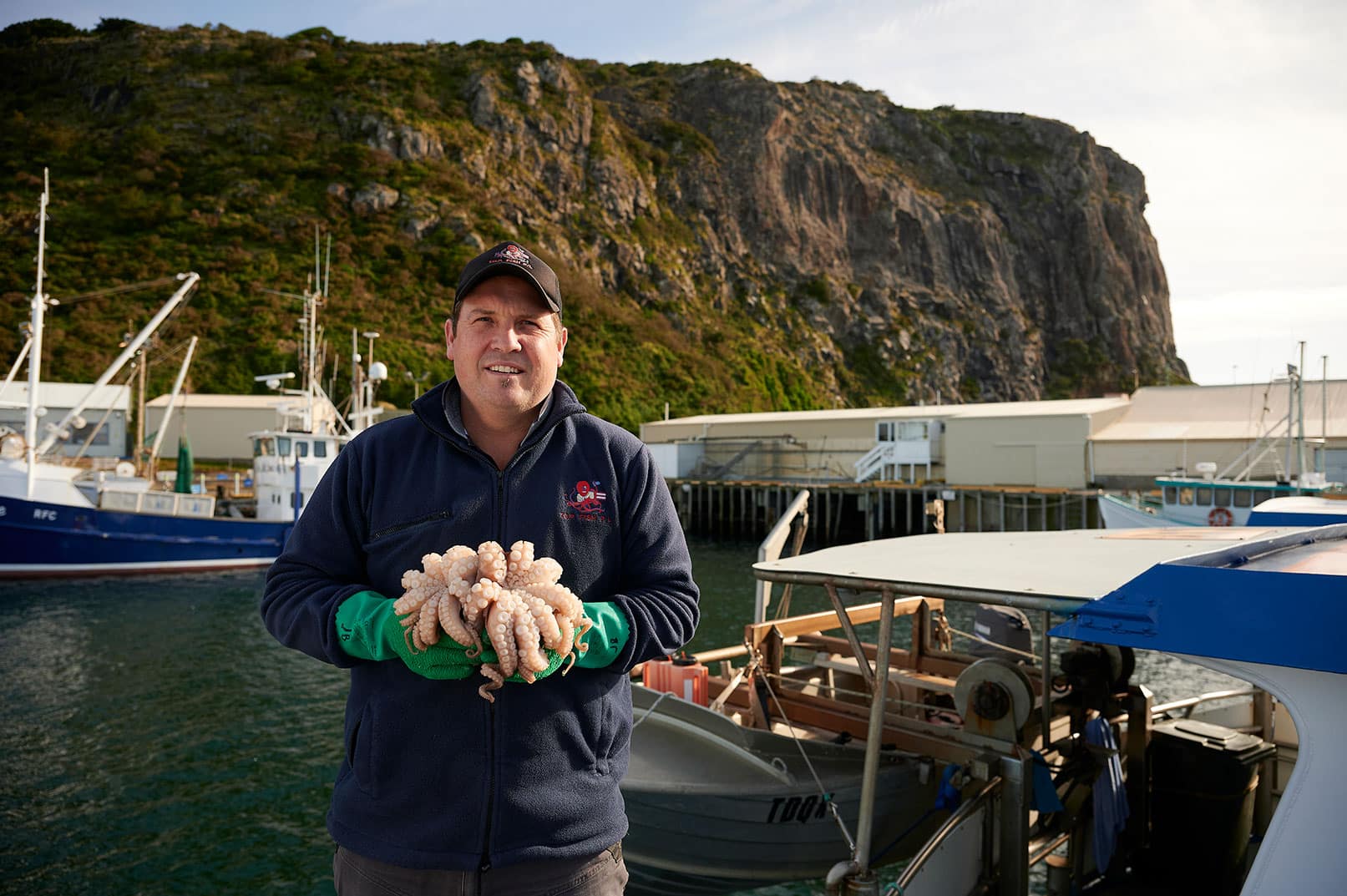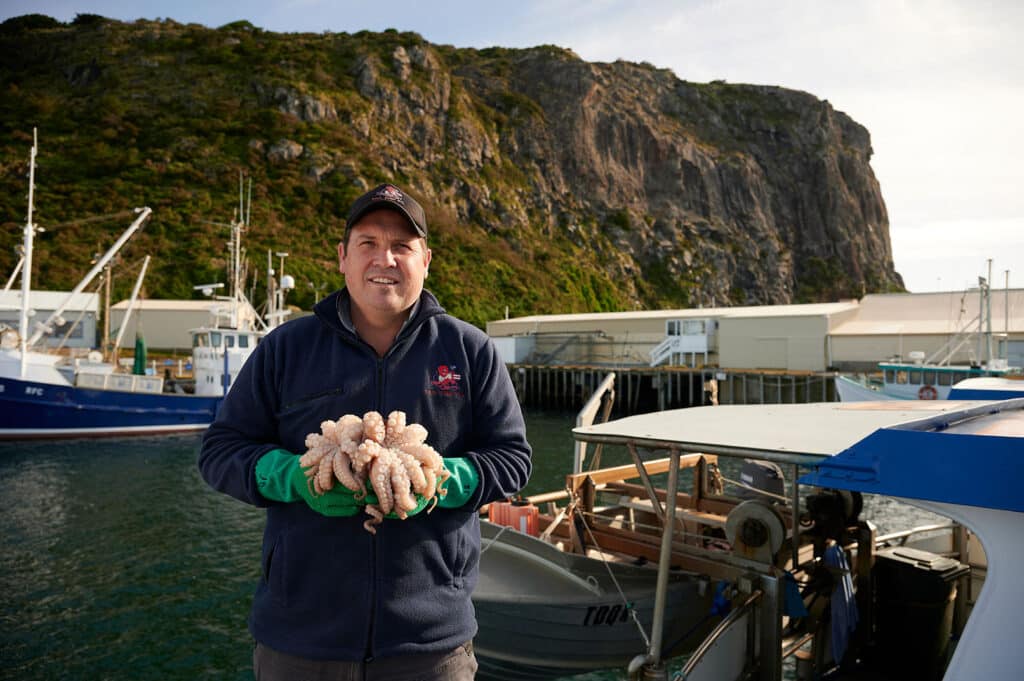 Octopus palladius is a medium sized species found across Bass Strait, including around King and Flinders Islands. "They tend to hide during the day, becoming active at night when they emerge to hunt for crustaceans," says T.O.P Fish Manager Martin Hardy. "They're a tasty and very versatile species. We sell them tenderized and flavoured in a number of different ways."
Most interestingly is just how the Hardy's make use of 20,000 specially designed pots. Set on more than 150km of line, each pot provides a temporary home for an individual octopus. Once the weather is favourable, the pots can be pulled and each octopus carefully removed. It's an ecologically sensitive way of fishing, requiring no bait or disturbance of the sea bed.

Once on board, the octopus are gutted by hand and immediately placed on ice. The process ensures that the product remains at its optimum level of freshness. This is an industry all about quality.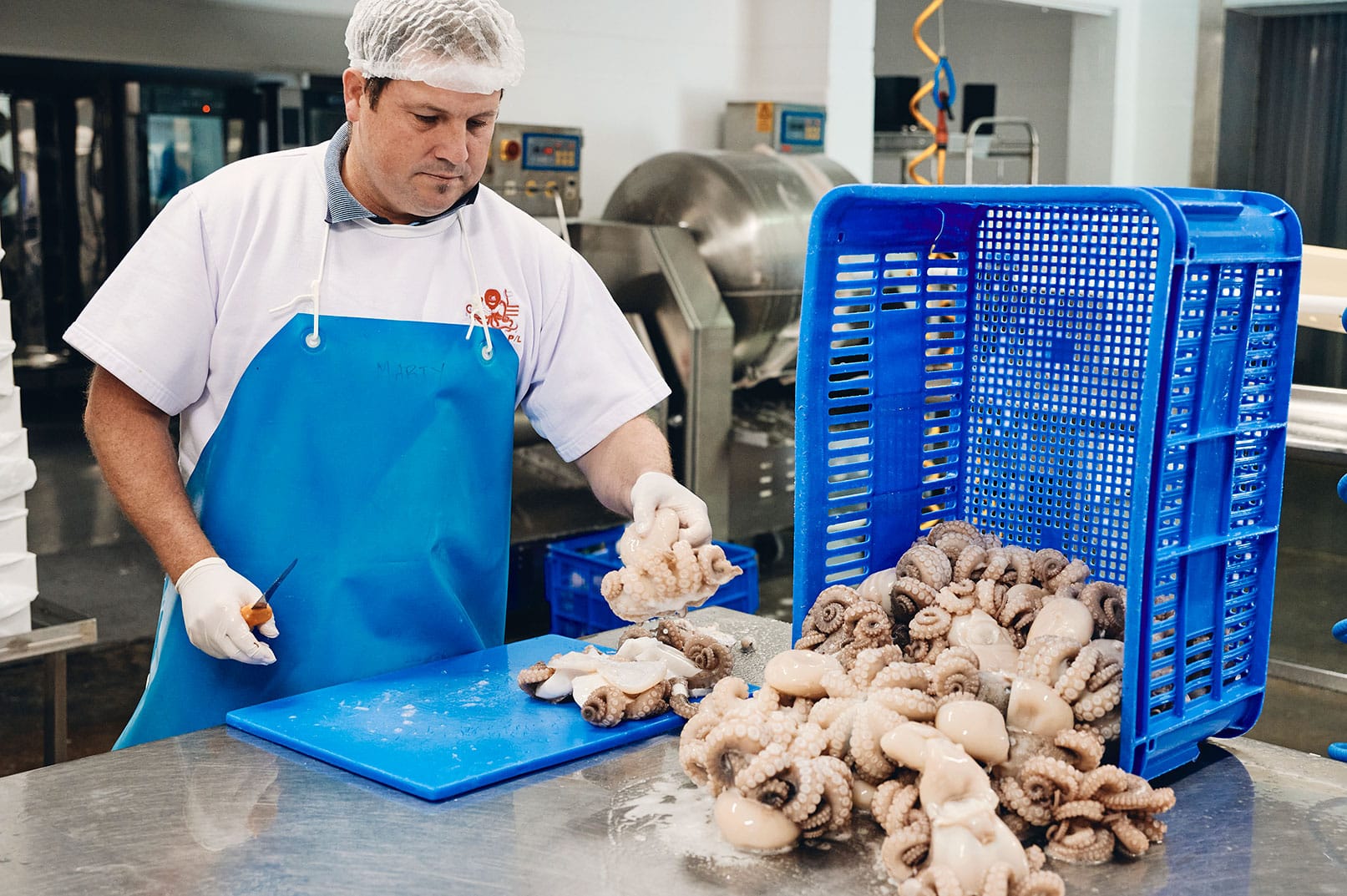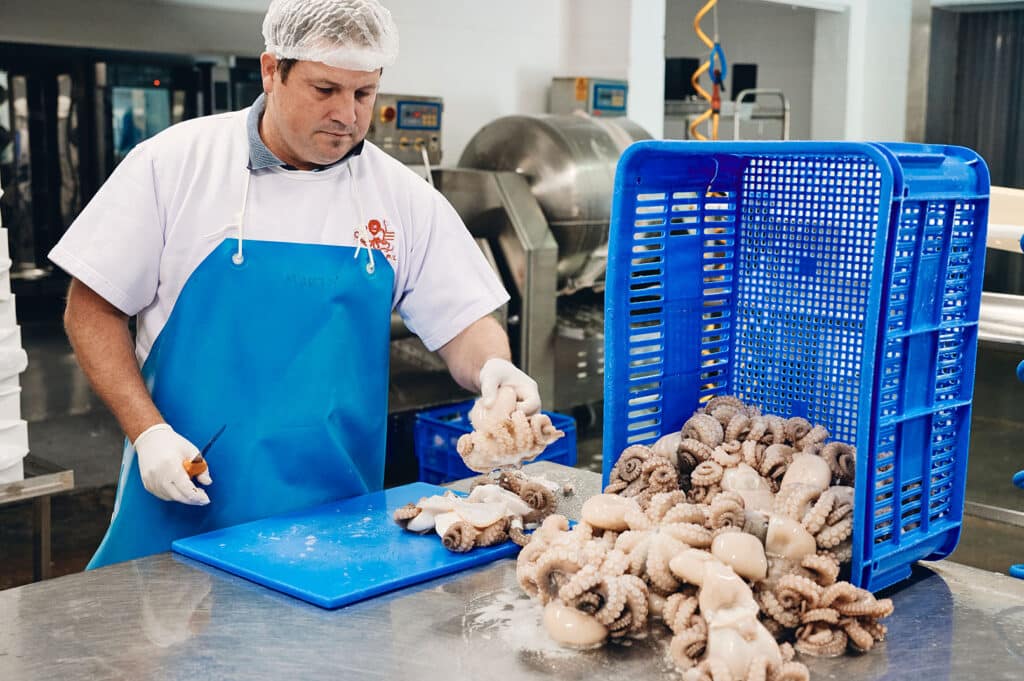 Gourmet octopus remain the signature product produced by T.O.P Fish. However, over the years the Hardy's have diversified into other Tasmanian gourmet delights, including rock lobster, abalone and crab. Five vessels are utilised to deliver octopus and live seafood fresh from the Strait into the fishing port of Stanley in Tasmania's far north west.
Bulk octopus sales occur by the pallet, whilst value adding at T.O.P Fish continues produce the company's bestsellers. Favourites include 350g jars and 5kg buckets of tenderised and pre-cooked octopus. Three different flavours are available - mouth-watering honey chilli and garlic, barbeque, and pickled. Each makes a perfect addition to salads, stir fry dishes and gourmet platters. Steamed octopus is sought after to be served both hot and cold, whilst tumbled octopus is tenderised and shipped to restaurants across the country. Discerning diners are always keen for a taste of Tasmania's best. "This is never a dull industry," says Martin. "We embrace each new day and every new challenge. It's a hardworking team always striving to deliver for our customers."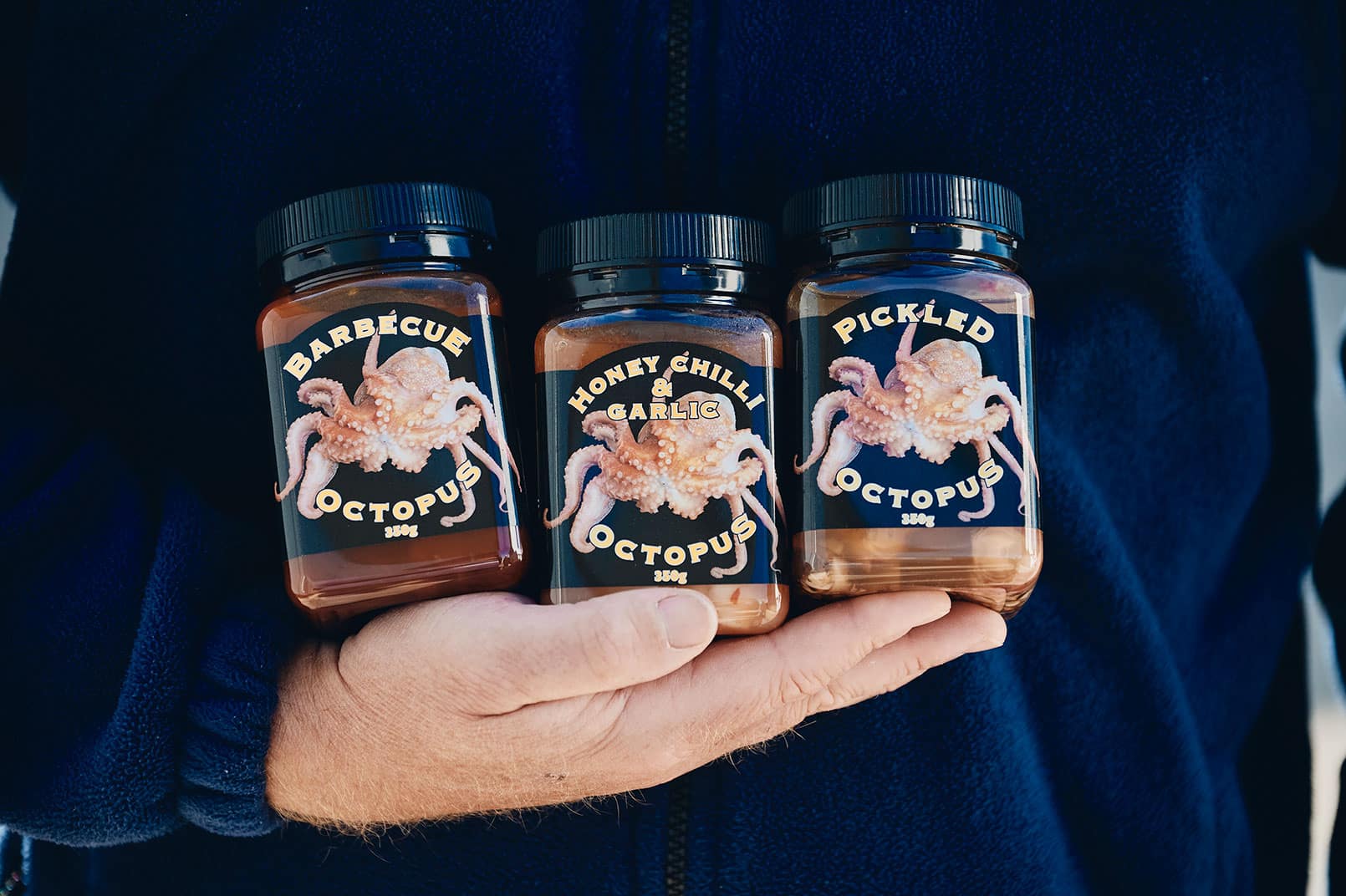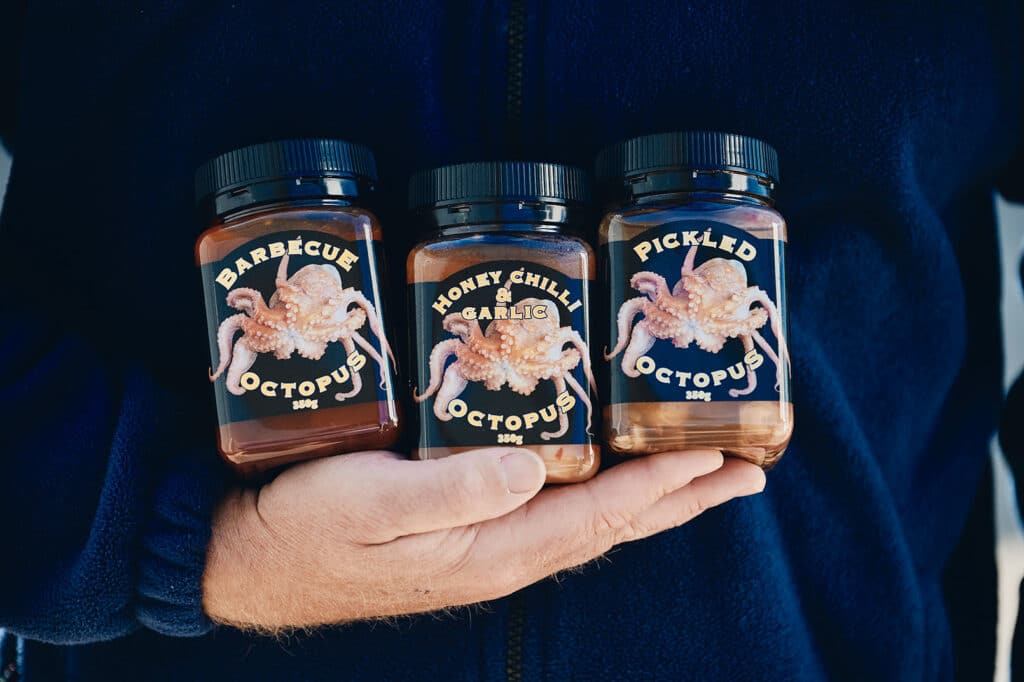 A taste of a T.O.P Fish delight can be hooked at local grocers around Tasmania.
For further details and orders visit the T.O.P Fish website.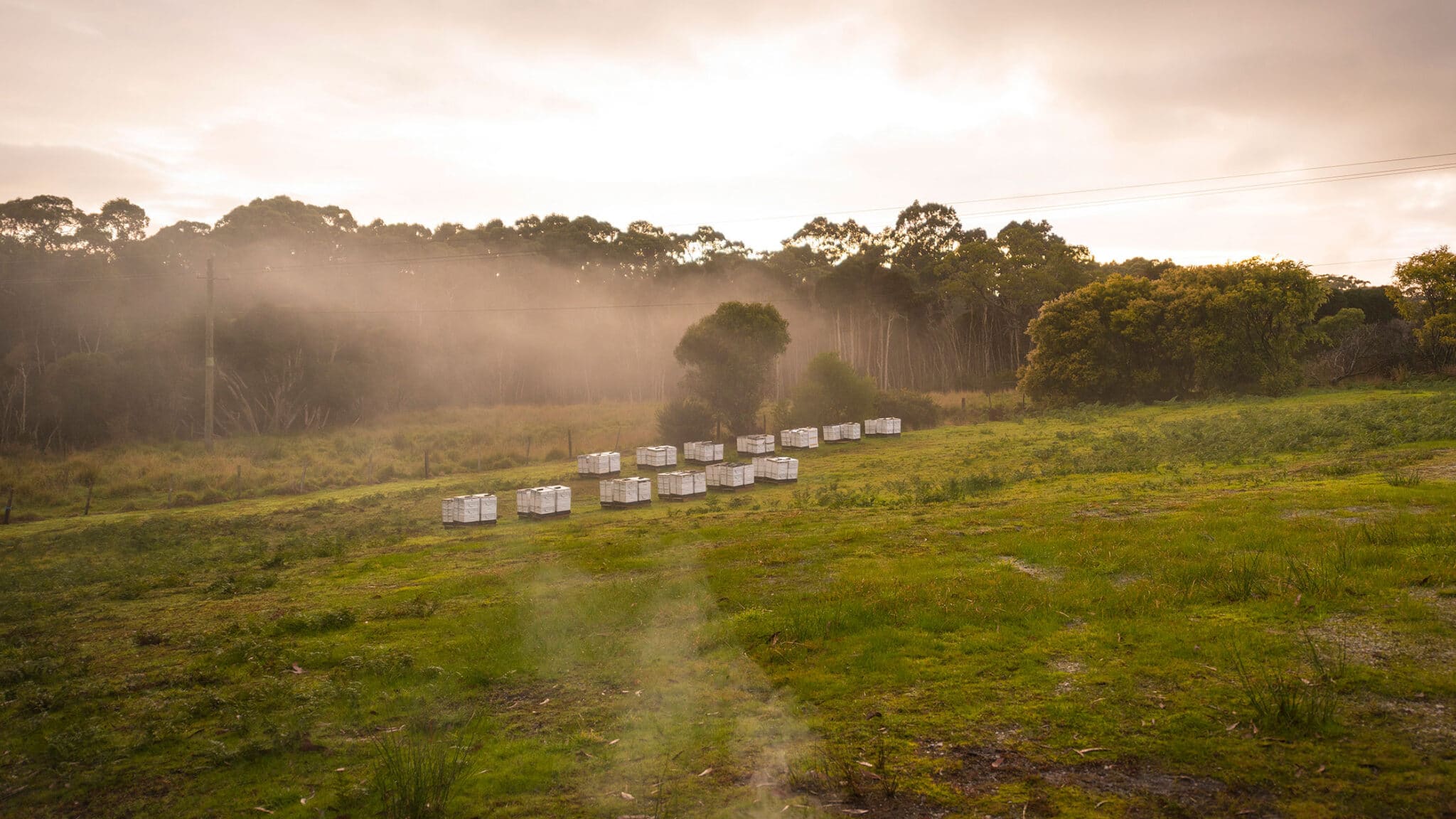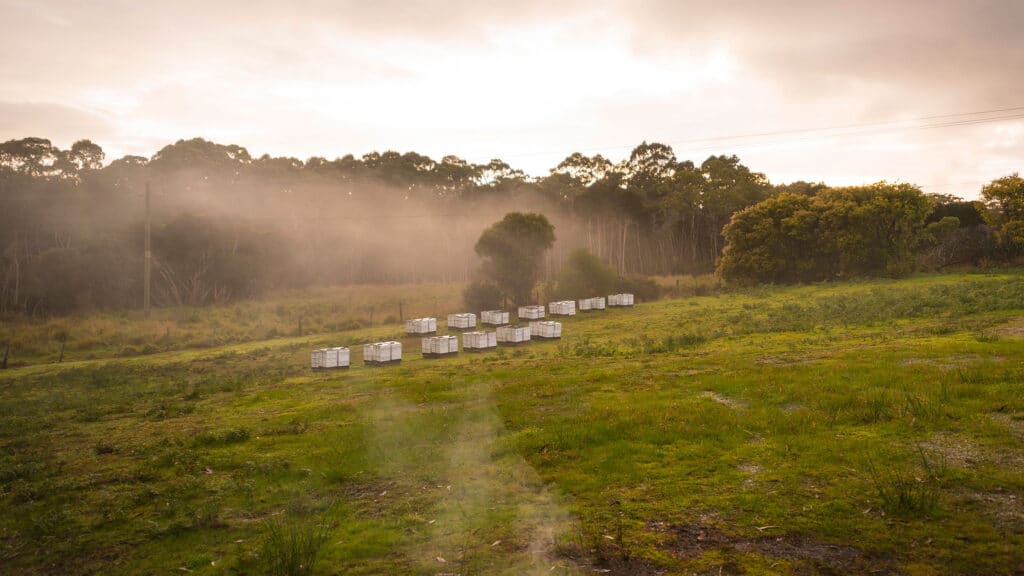 Blue Hills Honey - a hive of activity
The tiny township of Mawbanna is breathtakingly beautiful. Perched on the edge of Tasmania's pristine Tarkine wilderness, this glorious rural hamlet isn't just considered paradise by the locals – it's also perfect for bees.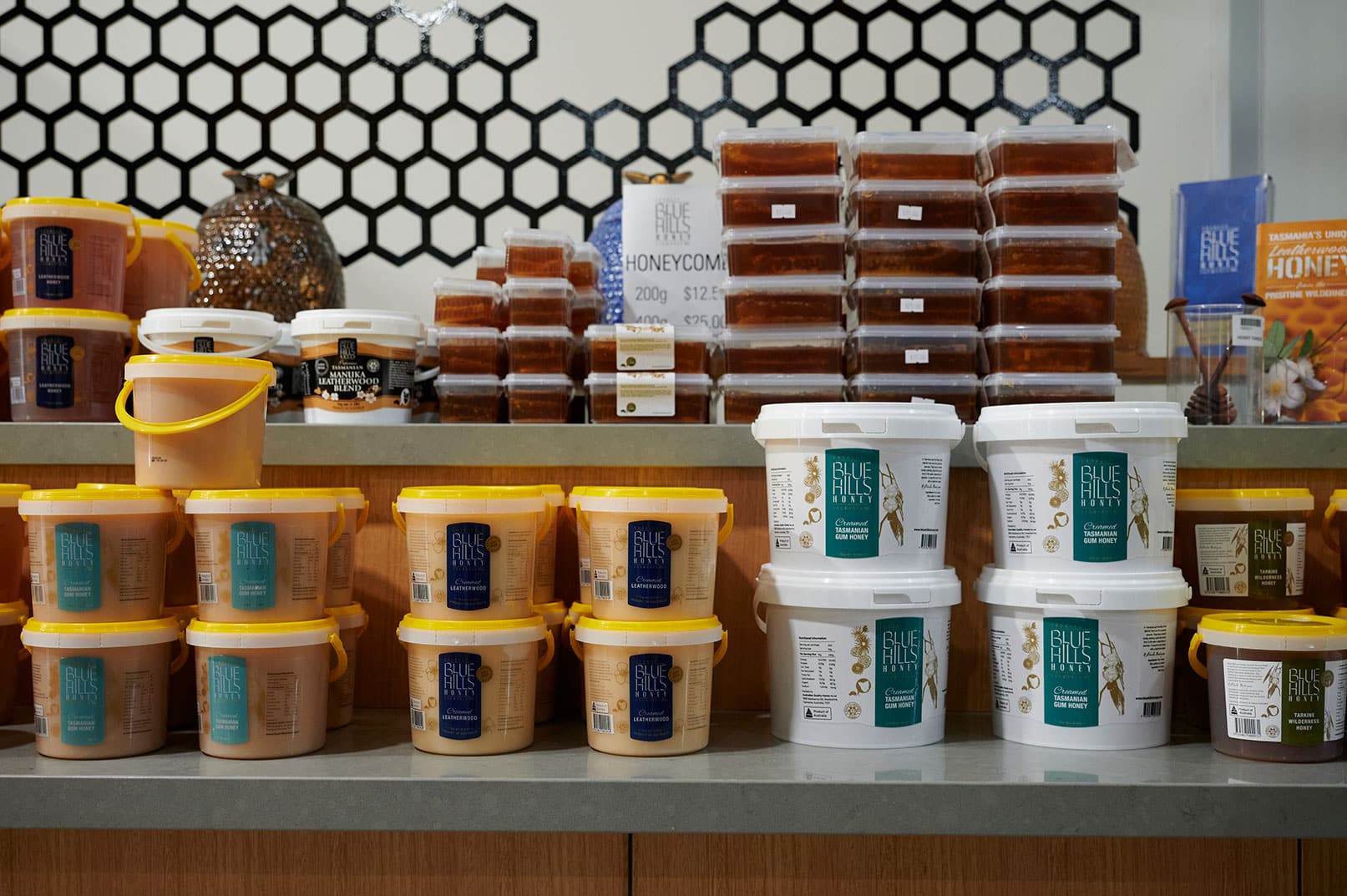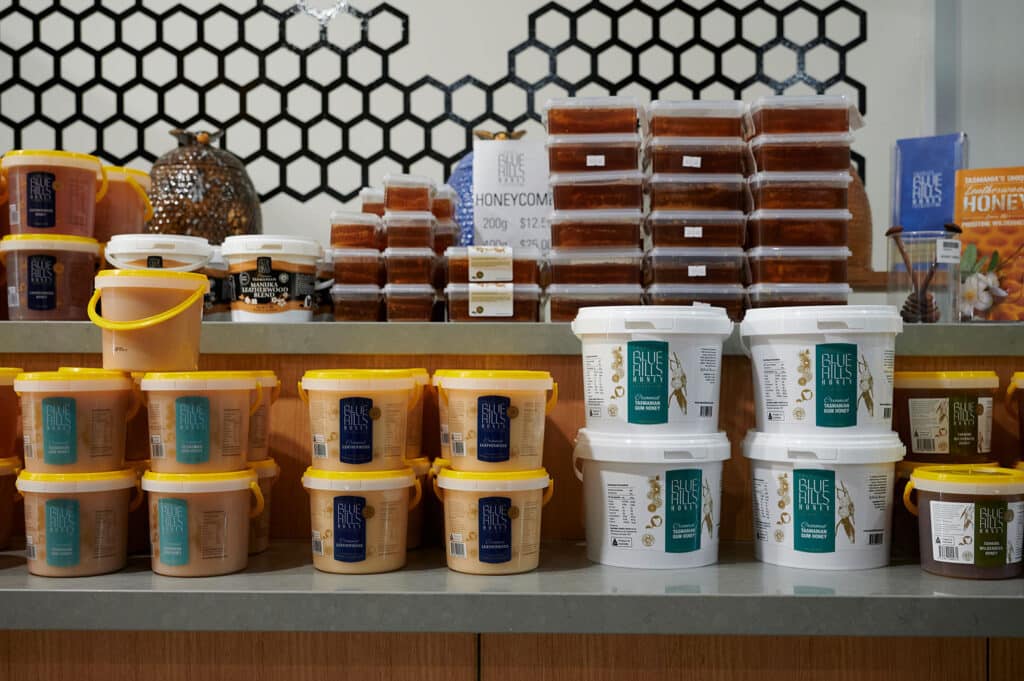 Nicola and Robbie Charles manage more than 2000 beehives throughout the Tarkine region. Spread out in groups of around 100, each hive houses approximately 80-100,000 bees during harvest season, and about 20-30,000 during the cooler winter months. The groups are roughly five kilometres apart, enabling the bees to have their own fly range.
"Each honey we produce is different," explains Nicola. "Regional variation plays a big part in our industry. The soils, the plants…the smell, aroma and taste very much vary according to location, a lot like wine in many ways. Honey really encapsulates the favours and essence of an area."
The leatherwood tree, found only within the cool temperate rainforests of Tasmania, has become a crucial part of Blue Hills Honey story. "It's our single most important nectar plant," nods Nicola. "The honey we produce from it is often described as 'the taste of the rainforest'. Tasmanian leatherwood accounts for about 70% of our honey and we'd really love to see it permanently protected. A lot has been lost over time, to the point where it's now a rare and threatened species."
From the bold and complex flavour imparted by leatherwood, the Charles' also produce a range of other tantalising flavours. Stands of wild blackberries, clovers from nearby farming fields, and Tasmanian pepperberries all impart unique flavours to some of the Blue Hills Honey best sellers. A premium Tasmanian Manuka Honey, renowned for its antibacterial properties, is highly sought after on the international stage.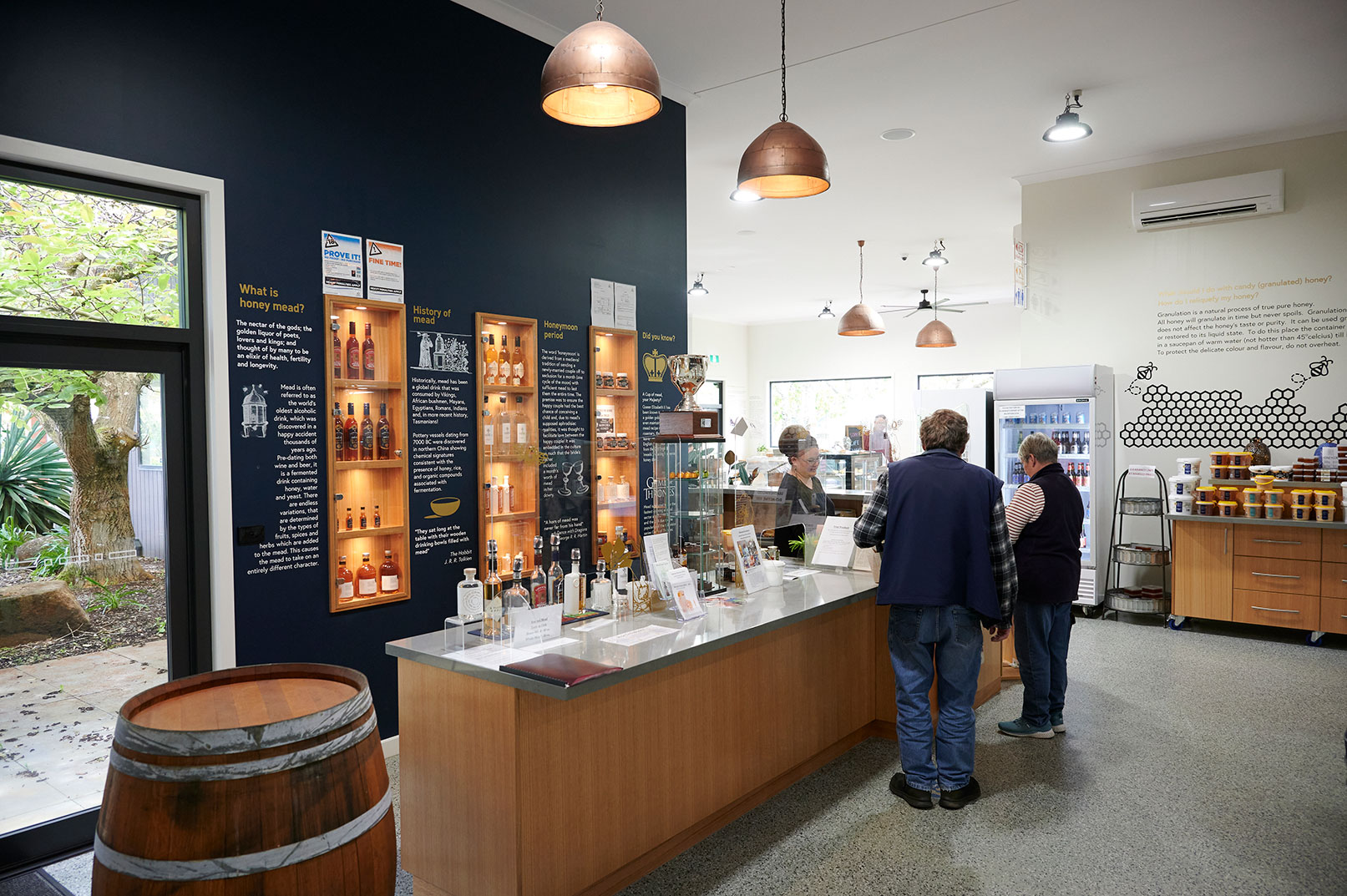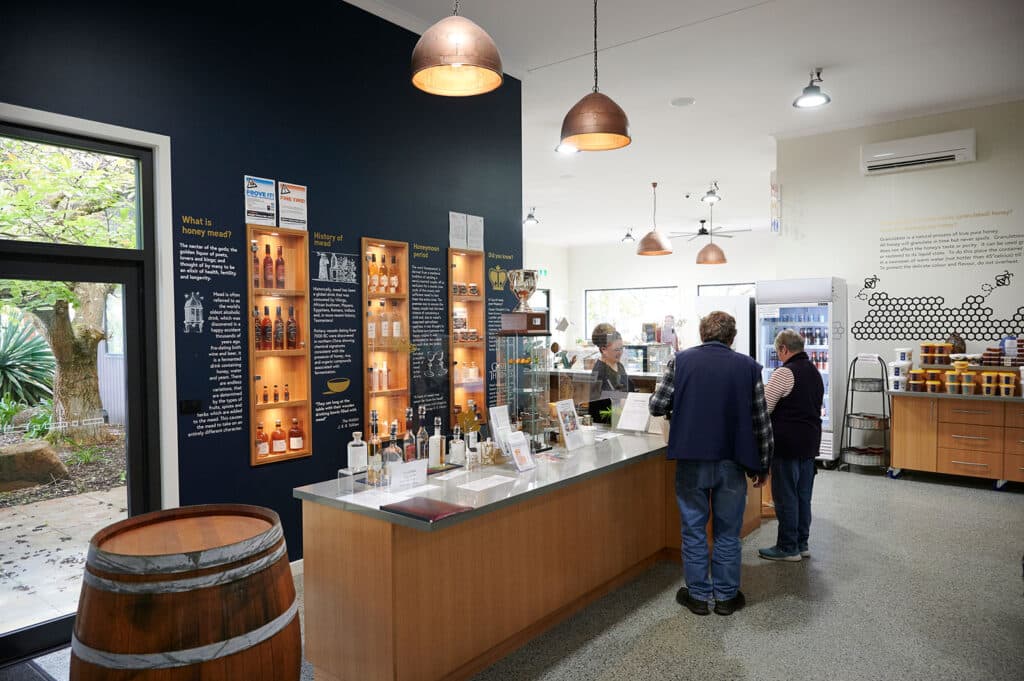 Blue Hills Honey is a true family operation. Robbie himself is a third-generation beekeeper. "There's a strong history here," says Robbie proudly. "Dad, along with the support of my mum of course, started the family business back in 1955," he explains. "I wasn't one for school, so I quickly learnt to love beekeeping too. It's a legacy that's come to shape where we are today."
Today, Nicola and Robbie's passion for bees is readily transferred to others. Blue Hills Honey not only offer a glass front facility that allows visitors to observe the honey production process, but also host special events allowing visitors access to Australia's first virtual reality beehive experience. Imagine stepping inside a beehive…flying over a leatherwood forest…or being a bee being tapped out of the box during a harvest. The Blue Hills Honey experience is cutting edge.
"What we do as an industry involves a lot of hard work and we notice that when we explain that well, the public really appreciate and understand the value of the product," says Nicola.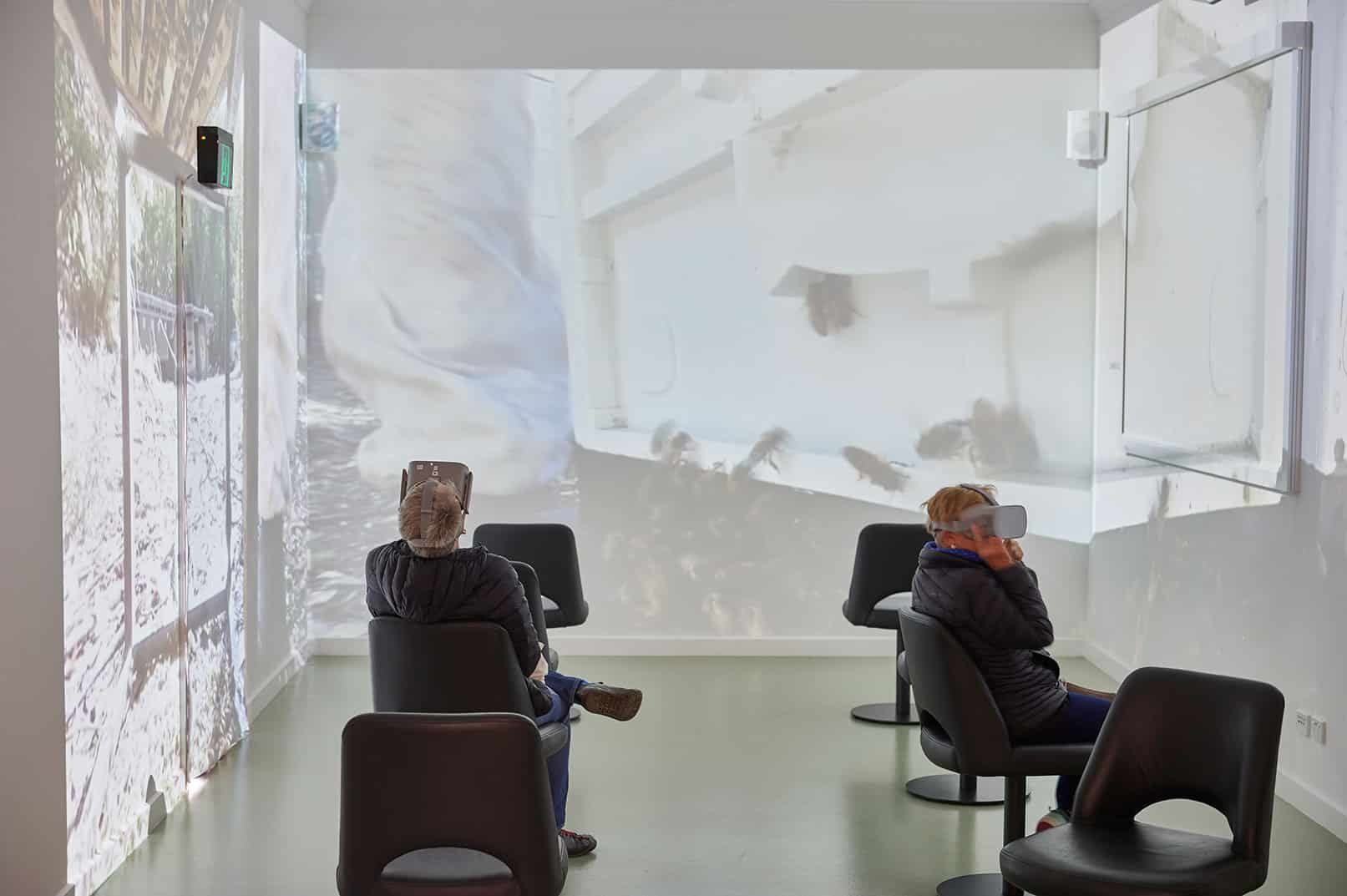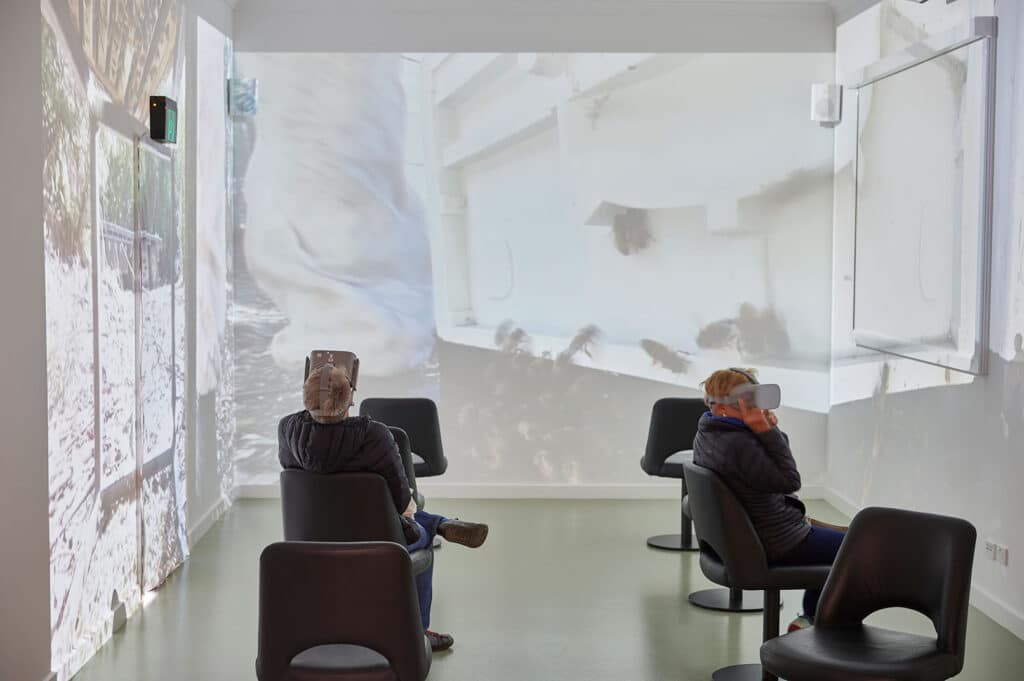 Just a few kilometres along the road from the striking Dip Falls and Big Tree, it's easy to make a day of a visit to Blue Hills Honey. Call in for a good coffee and some delicious honey sampling. Blue Hills Honey is 100% Australian sourced, straight from the pot with no additives – it's liquid gold!
For further details visit the Blue Hills Honey website.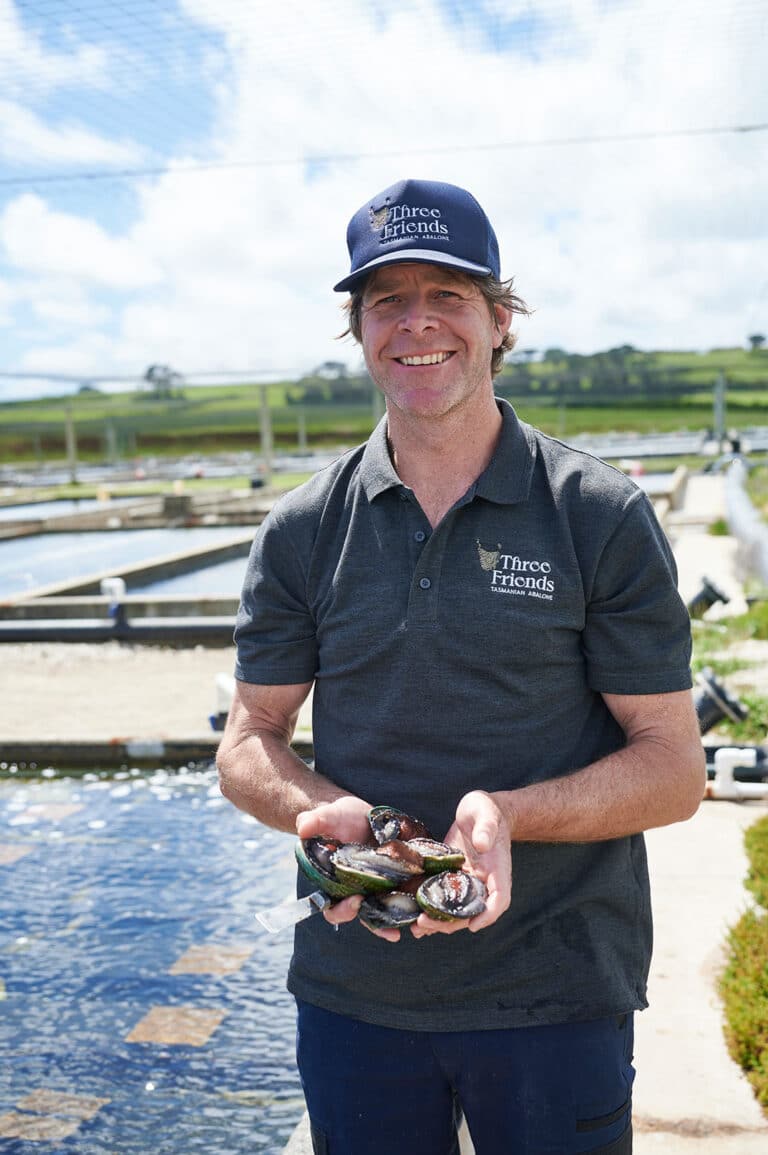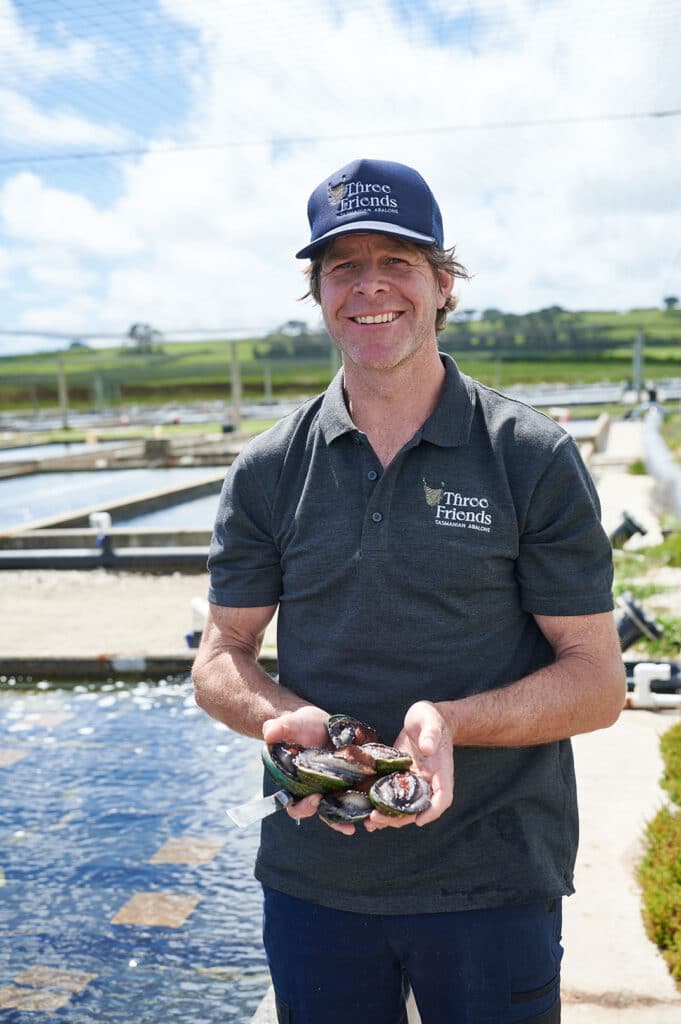 Three Friends Abalone
A shared passion for abalone bought mates Joel, Shane and Tom together. The trio initially met whilst working at an abalone farm in Victoria, bonding over a belief that quality always reigns supreme. Over 60 years of combined experience taught them that some of the world's best abalone can be successfully farmed using sustainable farming techniques.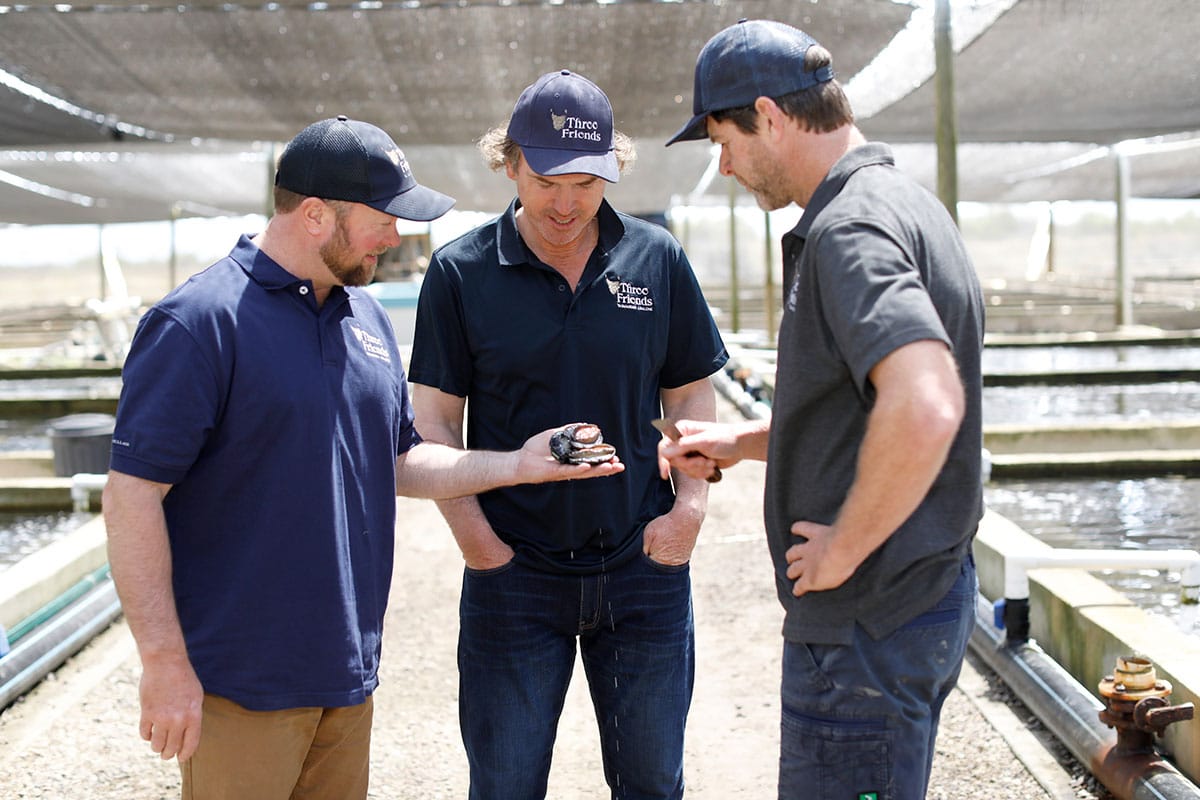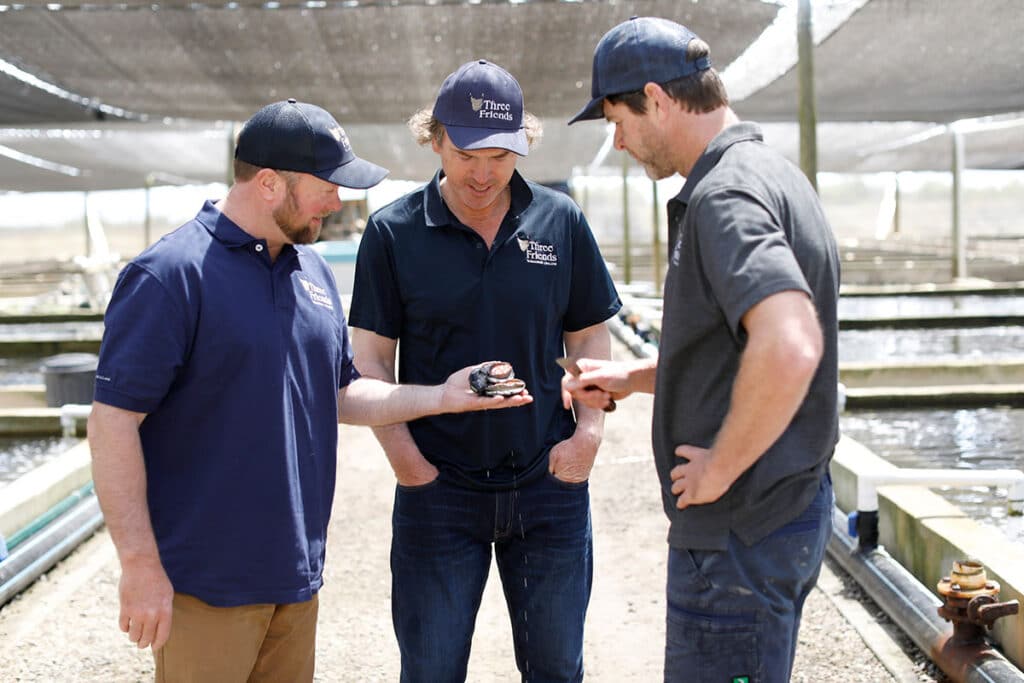 When a run-down abalone far became available on Tasmania's far north west coast, these enterprising mates jumped at the opportunity to create their very own boutique operation. Nestled behind The Nut at Stanley, the site offered the space they needed right alongside the pristine waters of Bass Strait. "It is a long way from anywhere here - isolated, beautiful and the marine life is just fantastic," explains Joel. "Whilst a lot of the existing infrastructure was very run down, that allowed us to purchase the farm at an affordable price. We then set about rebuilding the tanks and replumbing. We basically started afresh with our entire focus on creating products of the highest integrity."
Southern Australia is famed for these fleshy gastropod delights, and nowhere more so than in Tasmania. Three Friends Abalone raises three different abalone species; black lip, west coast and tiger abalone – all carefully nurtured by the pristine waters of Tassie's west coast. Black lip abalone, with its distinctive dark band along the edge of its shell, is particularly sought after for its creamy, delicate flesh. It's a gourmet delight prized for its sweet and salty – or umami – taste.
More than three million tiny charges are carefully watched over at Three Friends Abalone. The process begins with the natural spawning of brood stock and the selection of the strongest larvae. After feasting on algae in the nursery, the abalone will grow to a couple of centimetres in size before then being introduced to a special cereal-based diet.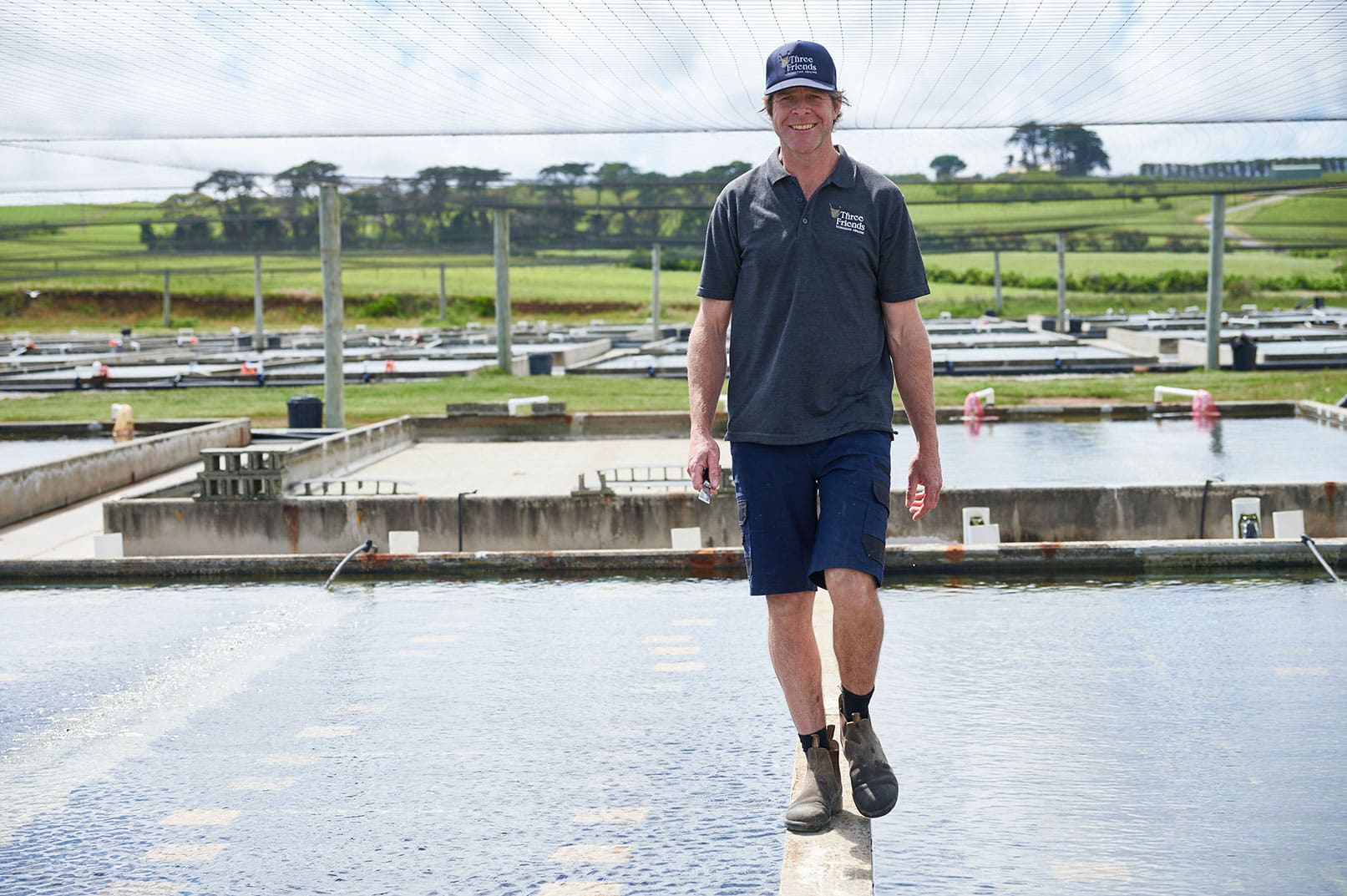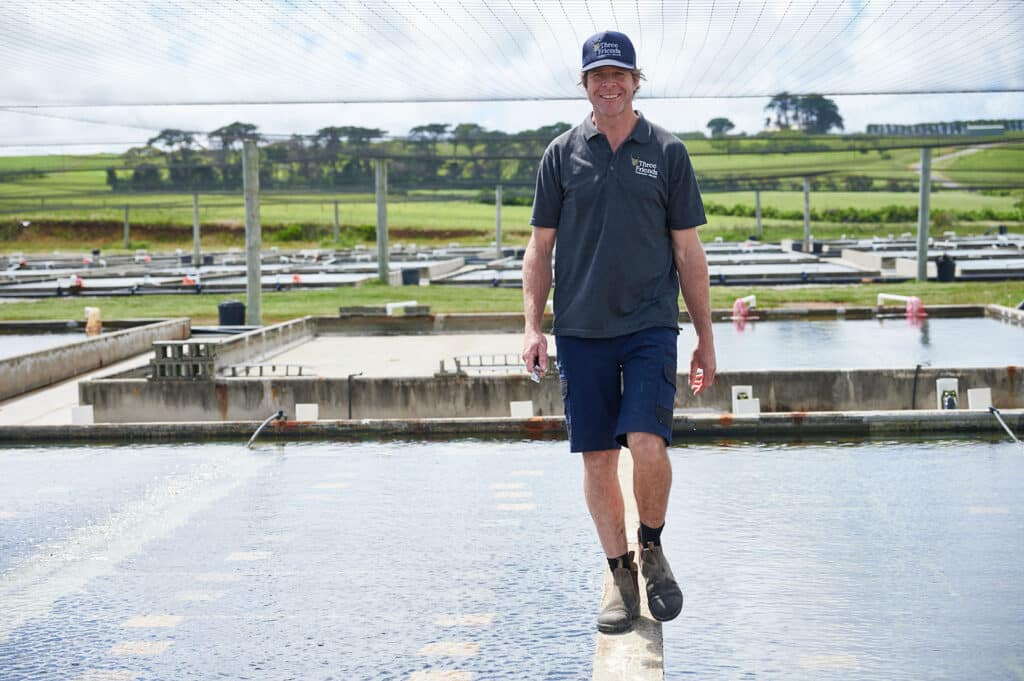 An impressive series of immaculately maintained pools, continuously refreshed with wild west coast waters, provide the perfect home for the abalone. Joel, Shane and Tom must care for their charges for two to three years before carefully hand harvesting and preparing them for processing. It is then straight from here to dining tables and restaurants across the globe.
Underpinning the transformation of this unique farm is a genuine respect for the natural world. "We've designed our farming methods to be in sync with the natural cycles of the ocean," explains Joel. "What we do mimics nature and we can ensure our produce is free from anything that wouldn't naturally be found in the sea. We've worked hard to create some of the most environmentally sound aquaculture practices in the world. Here in Tassie our power is 100% renewable, plus the help and support from the local community has been just outstanding. Stanley has a terrific community spirit."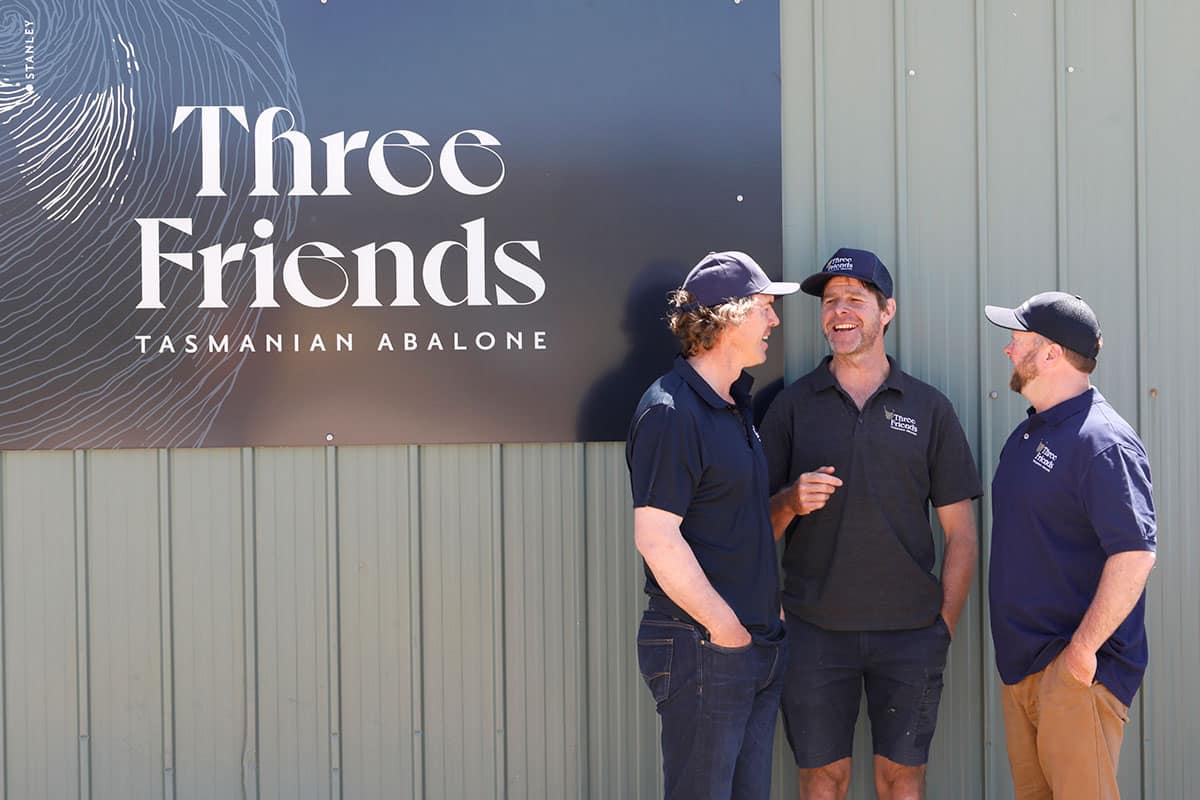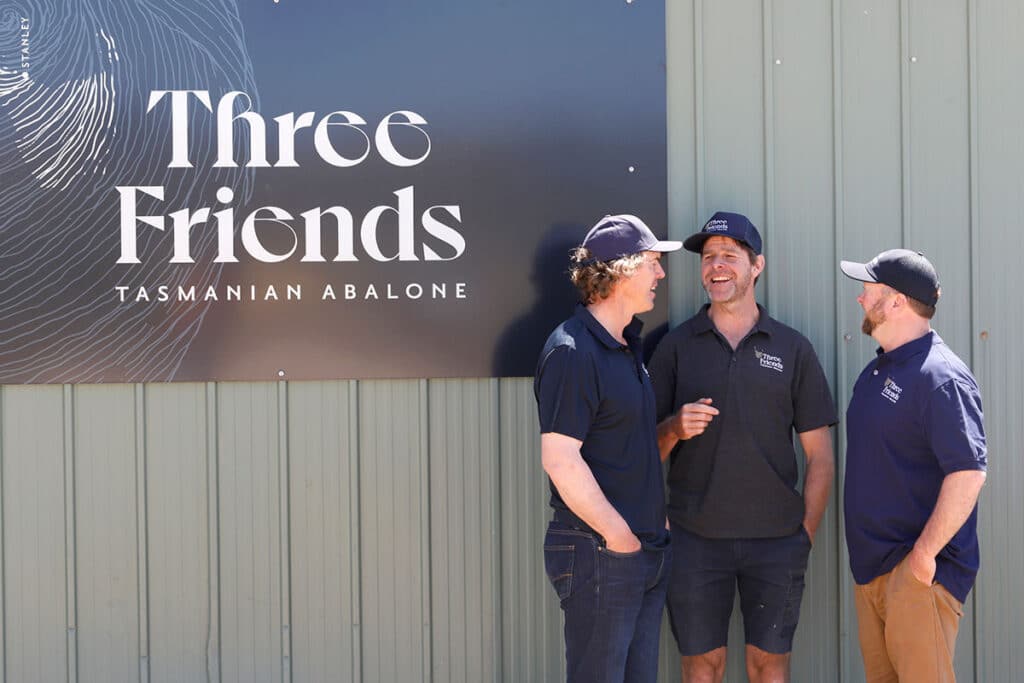 "Our abalone is cleaned and ready to eat, so it's ready for anyone to enjoy at home," explains Joel. "It's hard to beat that smooth, salty sweet flavour. There's really nothing else like it."
A 425g can of Three Friends Abalone can be delivered straight to your door, and you'll be pleased to know it requires minimal cooking. It is best consumed when just warmed through, although can also be eaten cold. Grab a taste of what the cleanest air in the world and the cool waters of the wild west coast can produce via the Three Friends Abalone website.