The wild waters of Bass Strait separate Tasmania from mainland Australia. Fishers who live and work along this infamous stretch of deep blue are rewarded with some of the finest seafood in the world.
Locals Michael and Jan Hardy first began braving the Roaring Forties for octopus in the 1970s. Almost half a century later, joined by their sons and even a grandson, their specialised octopus fishing techniques continue to place gourmet products on plates around the world.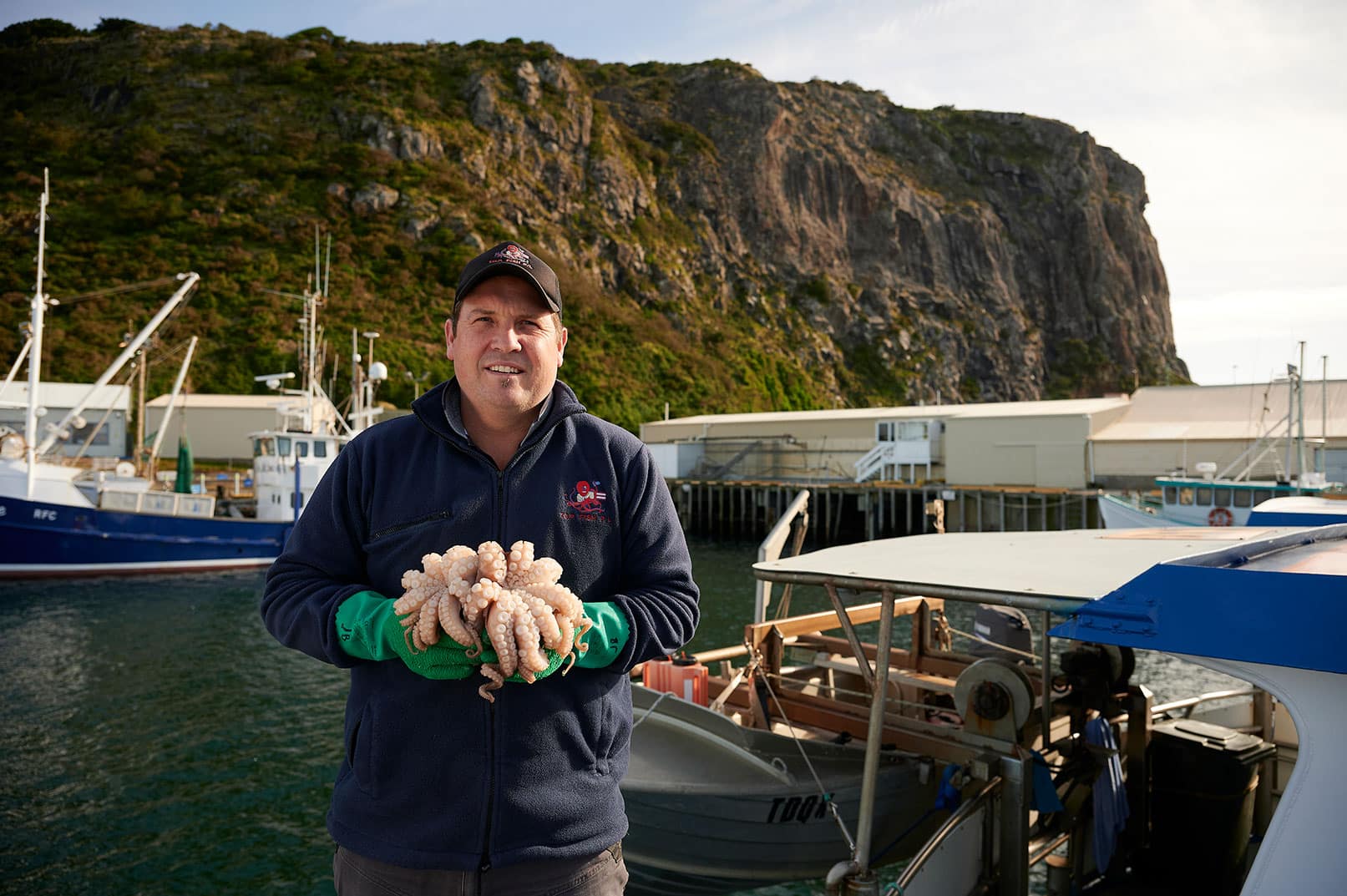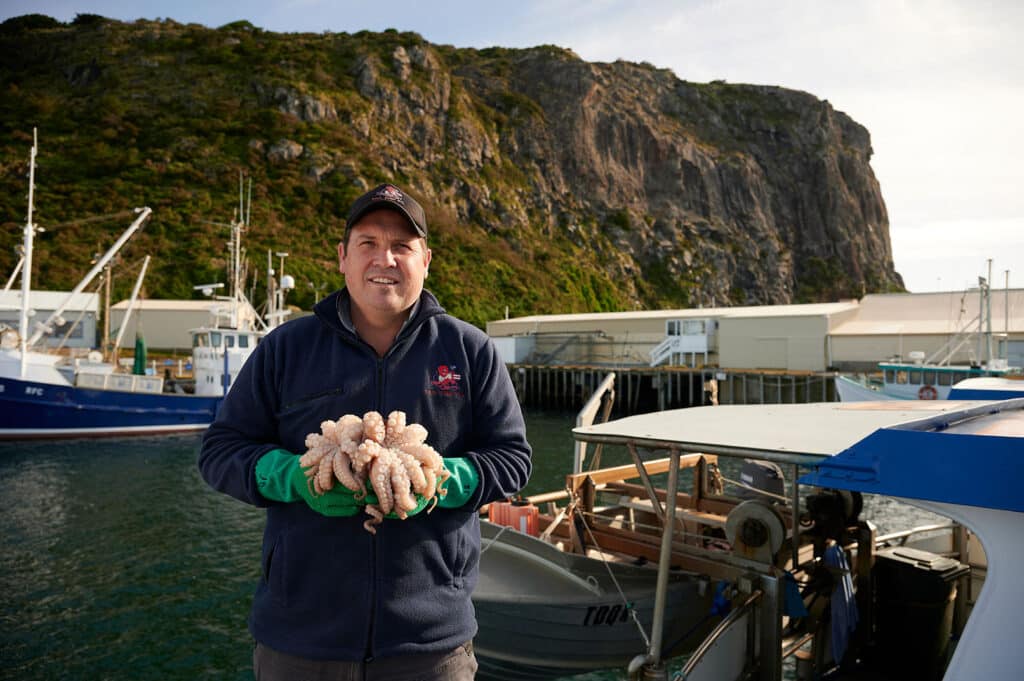 Octopus palladius is a medium sized species found across Bass Strait, including around King and Flinders Islands. "They tend to hide during the day, becoming active at night when they emerge to hunt for crustaceans," says T.O.P Fish Manager Martin Hardy. "They're a tasty and very versatile species. We sell them tenderized and flavoured in a number of different ways."
Most interestingly is just how the Hardy's make use of 20,000 specially designed pots. Set on more than 150km of line, each pot provides a temporary home for an individual octopus. Once the weather is favourable, the pots can be pulled and each octopus carefully removed. It's an ecologically sensitive way of fishing, requiring no bait or disturbance of the sea bed.

Once on board, the octopus are gutted by hand and immediately placed on ice. The process ensures that the product remains at its optimum level of freshness. This is an industry all about quality.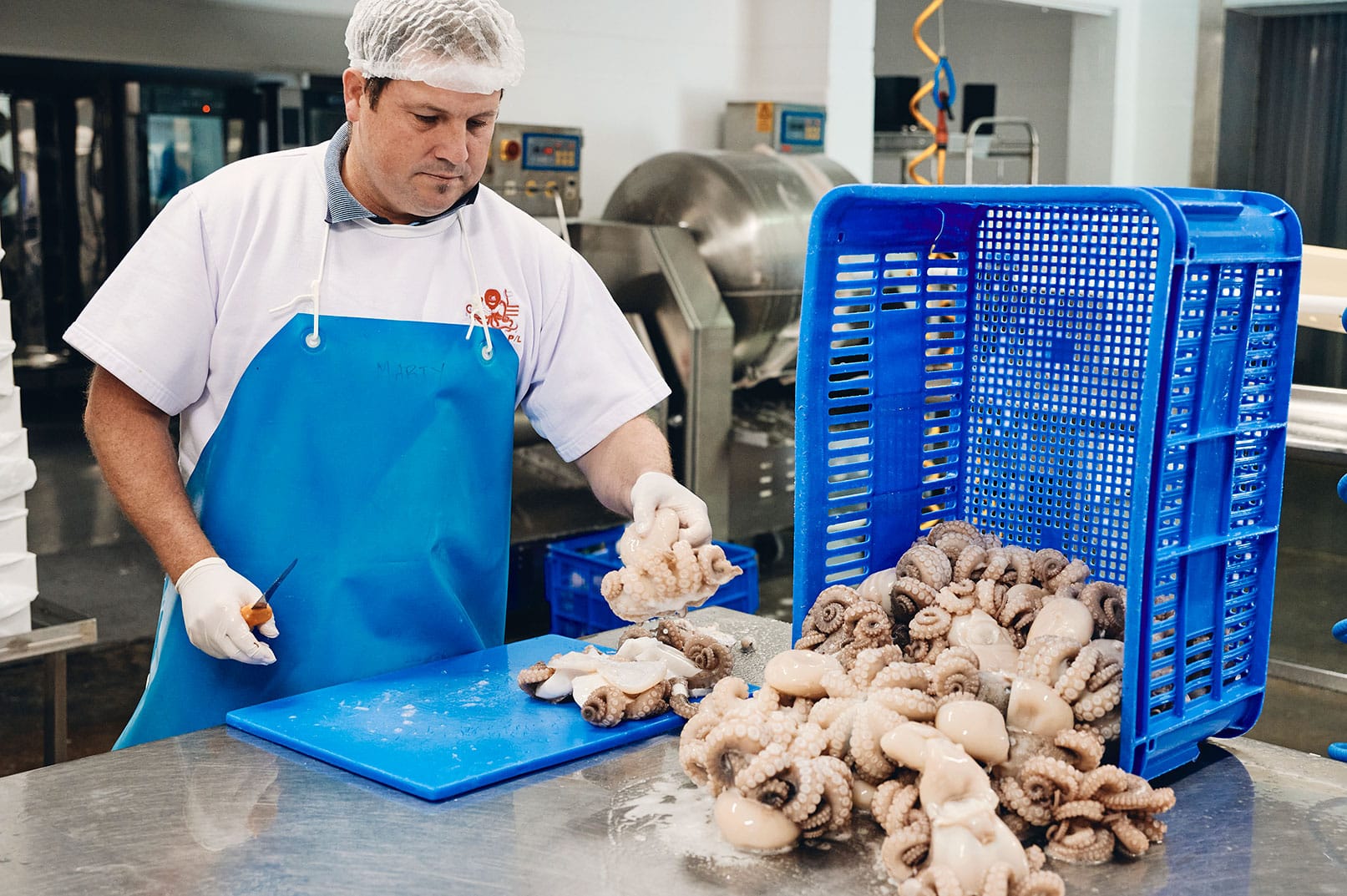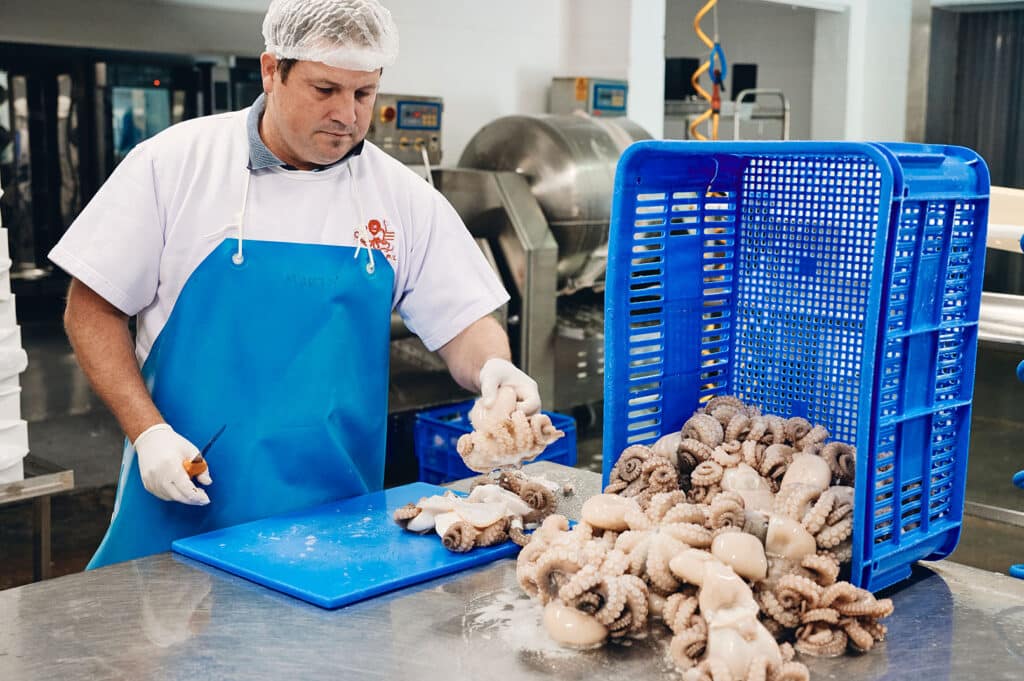 Gourmet octopus remain the signature product produced by T.O.P Fish. However, over the years the Hardy's have diversified into other Tasmanian gourmet delights, including rock lobster, abalone and crab. Five vessels are utilised to deliver octopus and live seafood fresh from the Strait into the fishing port of Stanley in Tasmania's far north west.
Bulk octopus sales occur by the pallet, whilst value adding at T.O.P Fish continues produce the company's bestsellers. Favourites include 350g jars and 5kg buckets of tenderised and pre-cooked octopus. Three different flavours are available – mouth-watering honey chilli and garlic, barbeque, and pickled. Each makes a perfect addition to salads, stir fry dishes and gourmet platters. Steamed octopus is sought after to be served both hot and cold, whilst tumbled octopus is tenderised and shipped to restaurants across the country. Discerning diners are always keen for a taste of Tasmania's best. "This is never a dull industry," says Martin. "We embrace each new day and every new challenge. It's a hardworking team always striving to deliver for our customers."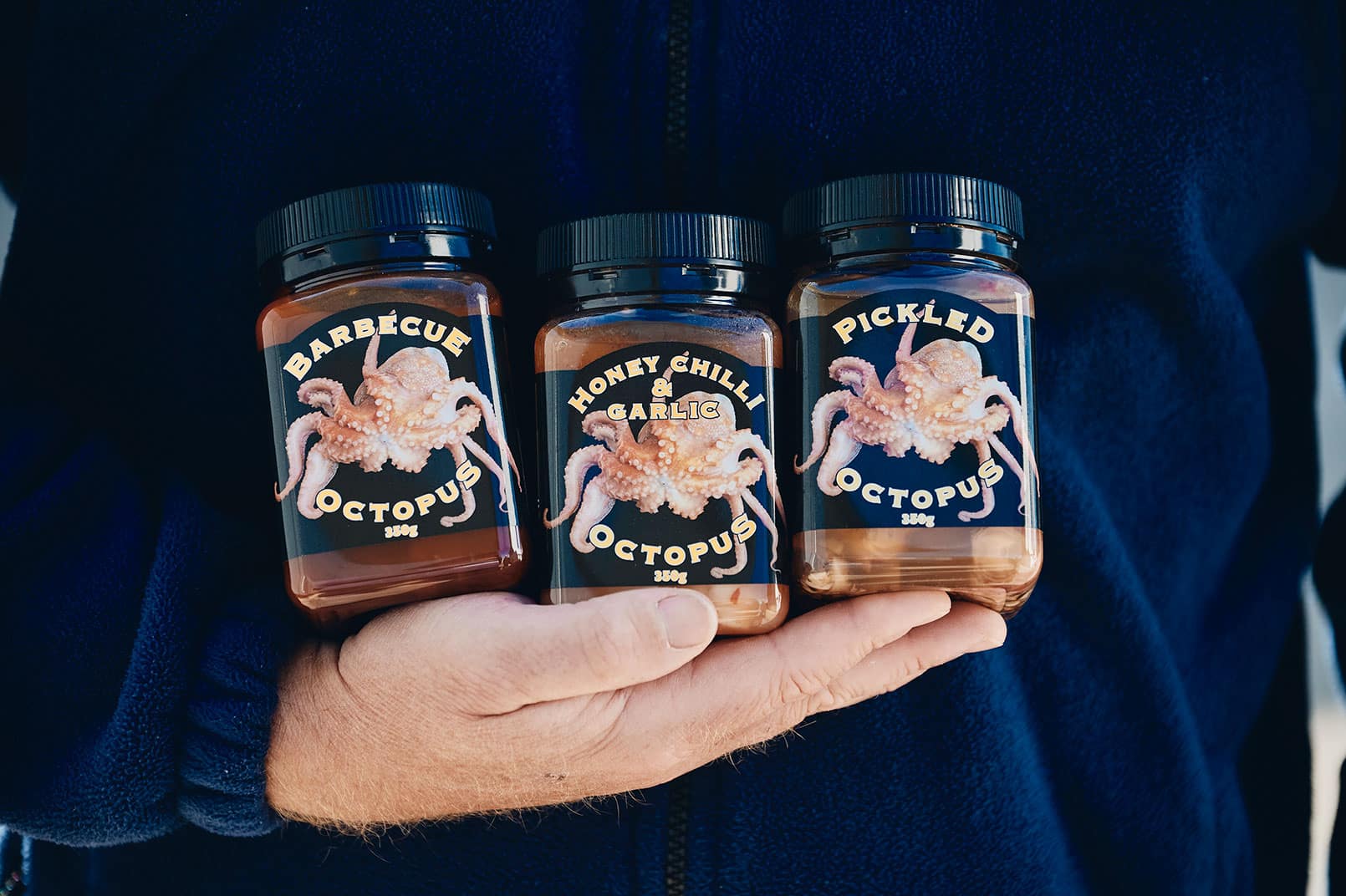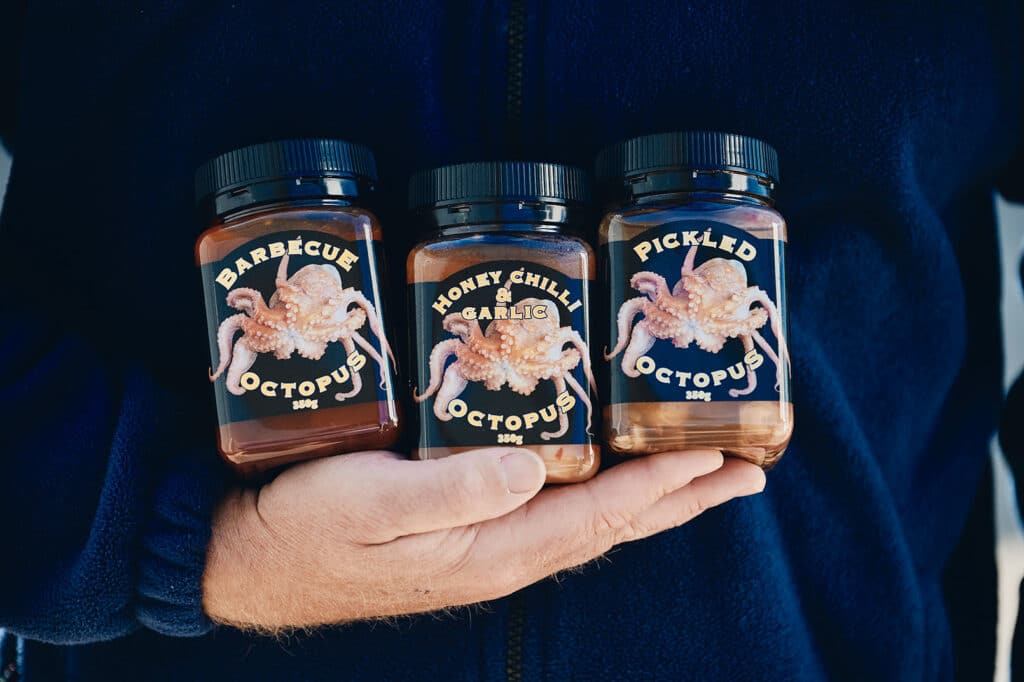 A taste of a T.O.P Fish delight can be hooked at local grocers around Tasmania.
For further details and orders visit the T.O.P Fish website.